Smart Tag Loyalty Club
Earn Free Maintenance at Smart Auto & Tire
With each visit you will earn Smart Points that can be redeemed on any maintenance service.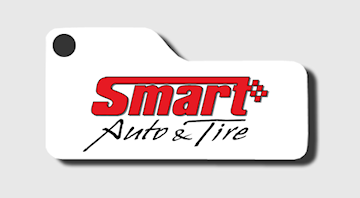 How It Works:
This rewards program comes with your own "Smart Tag" which is attached to your key chain.
Once activated, you are on the program and will build points with every visit.
Services that you can redeem with your reward points:
Tire Rotation
from 3000 points

Oil & Filter Change
from 5000 points

Brake Fluid Flush
from 9500 points

Power Steering Fluid Flush
from 9500 points

Internal Engine Flush
from 12000 points

Cooling System Flush
from 14000 points

Motor-Vac Carbon Clean
Fuel Injection Flush
from 16500 points

Transmission Fluid Flush
from 17000 points

4 Wheel Drive Service
from 28500 points

---
You can have one tag for each vehicle or for multiple vehicles
All points go towards one rewards file
You can use these rewards on any vehicle you own
Your points can be used at any service interval
You get points every time you make a purchase at our facility
---
LOST YOUR TAG?
Stop by and we will give you another one.